E-books
As well as conventionally published paper books, I have started to self-publish e-books: some are new titles and others are ones which are now out of print but still in demand.
I will update this page as new titles become available, so keep checking back! All of them are available from Amazon - if you don't have a Kindle, you can still read them, as you can download a free app from Amazon for all sorts of devices!
Authors Electric
I'm a member of a blog collective called Authors Electric - there are twenty nine of us, and we each contribute a post every month, with spare days being filled by guest authors. My blog day is on the 10th of each month. As well as blogging about all sorts of things that interest us, we also publish anthologies which will give you a taste of what we do. These include an annual round up of 'best of' our blogs which appears each December (Sparks), two books featuring our short stories (A Flash in the Pen and Another Flash in the Pen)
Just out!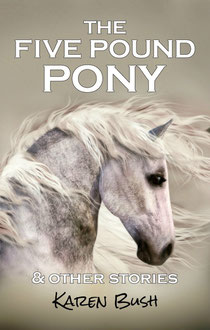 Now out!
A brand new collection of short stories - plus a feature related to each story with ideas for projects such as creating your own lucky horse shoe charm, suggestions for improving your riding and much more!
Available from Amazon HERE
365 HANDY HINTS FOR HORSE RIDERS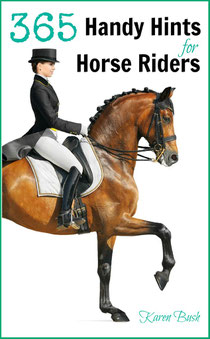 We all need a bit of encouragement or inspiration from time to time - so whether you dip in at random or work your way through from front to back on a daily basis, this book is the perfect accompaniment for any rider. Containing a wealth of practical hints and tips it can not only be downloaded to your computer, tablet or Kindle but even to your mobile phone so that wherever you are, the advice and information is always to hand whether at home, the yard, the riding school or a show.
As well as general advice there are also a multitude of flatwork and jumping exercises to try plus inspirational quotes from some of the great riding teachers and trainers. Containing 365 hints, tips and exercises, there is something for every day of the year (plus an extra one for leap years) to help you and your horse build your skills and stay motivated!
Available from Amazon HERE
IT ONLY HAPPENS IN STORIES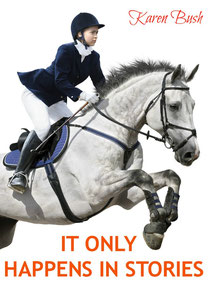 When girl groom Clare gets the chance to compete on Dizzy, the star horse in the yard, she can't quite believe her luck. And it's not just any old horse show that she is going to ride the promising young horse at either, but Olympia, one of the most prestigious events in the show jumpng calendar.
It all seems too good to be true - surely it's the sort of thing that only happens in stories?
Clare is about to find out as she embarks on a life-changing adventure of a lifetime!
This story is no longer available as it is being
expanded into a full length novel.
You can find out more at
                                                the dedicated website
Reviews from Amazon
"I really liked this story because of the way you get to love the characters and the way the story ends!" (fan the man)
"Although this is a short story, the author has included a lot of detail to make the story beievable and realistic. I felt like I was Clare jumping at Olympia. I just wish the story was longer. Overall 5/5 FANTASTIC!" (Mrs Diane M Willerton)
"Enjoyable quick read. Well written and a nice plot. I recommend it as a quick read to fill time for horse fans." (Hannah)
"The best book ever if you like to hear of people's success and how they got there I would recommend it to someone who likes horses and wants to know how someone got to the place they are at." (Anna Farthing)
"Was a good quick read I enjoyed it ... will be reading more by author for anyone into horses." (Sarah Baillie)
HAUNTING HOUNDS
50% of all royalties donated to Kim's Home
This is a very special small charity

Find out more HERE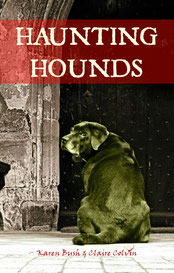 Reviews from Amazon
"I love 'true' ghost stories, of which there are many here. It's a book of short, interesting pieces that can be quickly dipped in and out, always find something good. If you like dogs, and ghost stories, you'll enjoy this. It's witty too!" (Wench)
NOW AVAILABLE
The Principles of Teaching Riding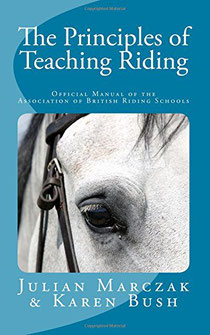 This text-only revised edition is an official Manual of the Association of British Riding Schools - essential reading for all riding school proprietors, employees, trainees and clients!
A comprehensive approach to the primary elements upon which all good riding instruction depends: the teaching philosophy, practical observations and tips are all based on many years of practical experience by the authors. All aspects of teaching are covered, along with suggested guidelines for the instruction of every age and ability level.
Now available in paperback at £4.95, or as an e-book from Amazon at £3.50.
"... a necessary addition to your equestrian library."
(Pauline Harris FABRS)
"Simply and expertly written ... an important encyclopaedia of principles and precepts which should be looked upon as the 'bible' for the safety of horse and rider, and is highly recommended."
(Charles Harris FIH FABRS FBHS)
"Enlightening and educational"
(Amazon review)
"A good source of information"
(Amazon)
NOW UPDATED!
The Great Rosette Robbery and other stories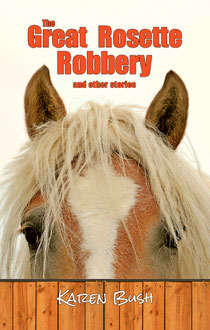 NOW UPDATED!
Additional features related to each of the stories include ideas for projects such as making your own rosettes, and suggestions as to how you can jump a clear round, make the most of your riding school and much more!
A pony that won't jump: a talented horse loses his nerve: an escape artist saves the day: prizes that mysteriously go missing, while a missed show results in a dream coming true, and a lost rosette leads to the opportunity of a lifetime. These plus other stories and an excerpt from a forthcoming full-length fiction novel are now available on Kindle from Amazon at the bargain price of just 77p!
Reviews for The Great Rosette Robbery
'EXCELLENT - AN AUTHOR TO WATCH'
"The Great Rosette Robbery and other stories is a collection of short stories; there's a full length book imminent.
I hope to be pretty near the front of the queue for that book, Riding for a Fall. The short stories are mostly excellent; Karen Bush obviously knows her equestrian stuff and effortlessly places her characters in thoroughly believable backgrounds. There are eight stories in this collection, ranging from When Practice Didn't Make Perfect, about a new pony, bought as a jumping star but who flatly refuses to jump, to The Gift Horse, my favourite of the collection, in which pony-less Lucy learns something about friendship. This story explores the classic girl-gets-pony theme, but with a twist which is possibly unique. And which involves Picasso.
The stories have a mix of backgrounds; families who have ponies and who don't, and a good mix of male and female central characters. These are traditional stories. The pony book does like to inform as well as entertain, and there's some instruction mixed in, generally lightly.
This collection of stories is well worth buying; they're well written and entertaining and do the short story's job of painting a brief but compelling picture. Karen Bush is an author to watch."
- Jane Badger, specialist equestrian bookdealer